Last Updated on November 26, 2022 by Rizwan
As of Android 13, you can once again view your battery life since your last full charge.
The battery usage statistics page in settings has been redesigned by Google with Android 12, making it less useful overall.
With Android 13's first major update, Google restores the battery usage page to its former utility.
To bring things full circle, in Android 12, Google introduced a brand new layout for the "battery usage" page.
The updated battery screen would show usage over the past 24 hours regardless of whether the phone had been charged during that time.
While it did have some helpful features, like an hour-by-hour breakdown of which apps were using the most power, the fact that you couldn't see any stats from the previous full charge made it difficult to get a reliable picture of your battery life.
Android 13 QPR1 Beta 2 is a major update from Google that addresses this issue.
The most recent beta release of Android presents a new battery screen that initially displays the "battery level since last full charge," before switching to an hourly breakdown.
This adjustment restores the ability to monitor battery health over the course of a complete discharge, rather than just a flat line over some arbitrary period of time.
Those of us who are interested in comparing the battery lives of various smartphones will find this the most helpful, but the average Pixel user will still find it to be of great value.
The actual user interface has been captured in screenshots by one of our readers.
We've confirmed the update is rolling out to a large percentage of devices running Android 13 QPR1 Beta 2, but my personal statistics (shown in yellow below) are a little off because I haven't been using the Pixel 6 Pro as my primary phone for the past few weeks.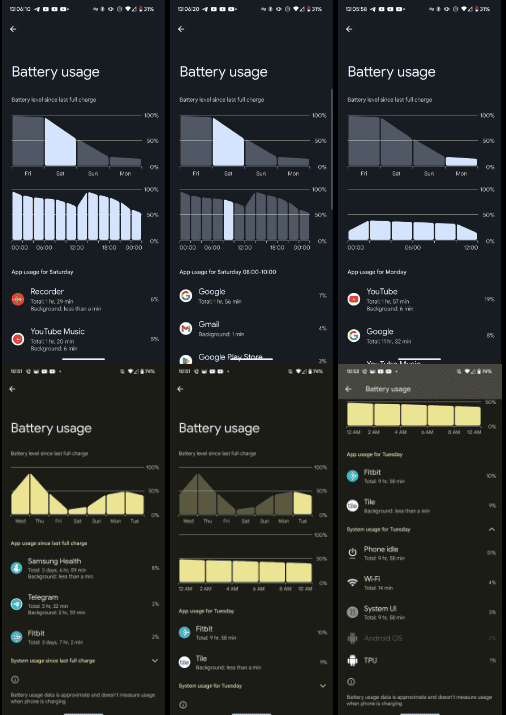 The QPR1 update, which includes these modifications, is scheduled to roll out to Pixel 4a through Pixel 7 devices later this year.