Last Updated on September 24, 2023 by Rizwan
Gameloop is the best Android emulator for playing PUBG Mobile and Call of Duty Mobile on a Windows desktop PC. Gameloop was formerly Tencent Gaming Buddy (TGB) or Tencent Game Assistant. But now it has rebranded with more features and games support.
Gameloop Overview
Gameloop is specially optimized for games rather than the normal Android experience. Tencent develops it, the developers of PUBG. The emulator engine is best optimized for PUBG and other online games.
Gameloop- An interesting new social networking app that focuses on gamers.
Gameloop is a brand new platform that allows playing mobile games on PC. Numerous popular games are available on Gameloop, including Call of Duty: Mobile, PUBG Mobile, Free Fire, Arena of Valor, Mobile Legends, and much more that are yet to be updated soon.
Despite the presence of the Game Center, Gameloop is an app where one can meet new friends to play games with. It's the core thinking behind Gameloop.
It pools various resources. To gain more insights, one can import Xbox Live, Steam, and PSN as well as iOS details. Besides a few problems I had with Gameloop, the basic principle is a good idea. When done with data import, it lists all the games one has played. Making it easy to add further information about each title.
As a library, Gameloop gives you the best experience. The main feature of its success is Social features which permit easy interaction for players. As the app calls it, the Gameloop is excellent for a simple conversation about games.
What Should I Know about Gameloop?
Besides the best features of Gameloop, it has some noticeable difficulties. Importing Xbox360 games is difficult, with no explanation. Searching and limitations to filtering are also an issue. But it isn't such a big deal when the community is small.
Pros
Best Android emulator to play PUBG and COD on PC.
Game center for best-supported games.
Smooth gameplay.
Keymapping to play games using keyboard and mouse.
Cons
Games might not work on old computers and GPUs.
Forced game download on the first install. It is tough to download just Gameloop emulator only.
New Features in Gameloop
If you have been using Tencent Gaming Buddy, you will notice a few new things, but most features are borrowed from old TGB. Let's have a look at the new features.
Game Center
Tencent keeps testing top Android games on Gameloop and adds the best-performing games to the Game Center area. So the games you see in the Game Center section are adequately tested and work 100% on the emulator.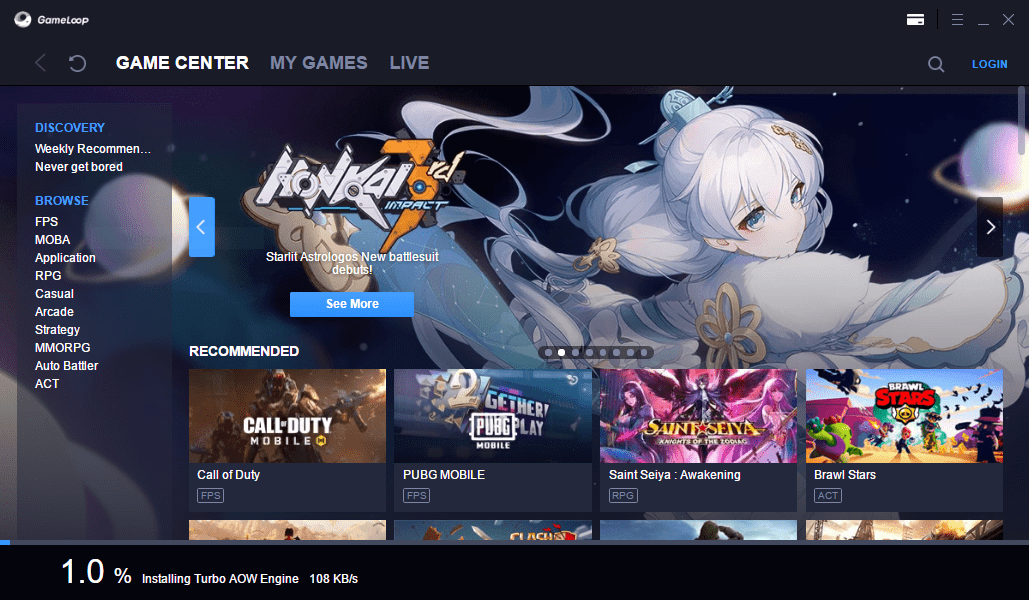 User Login
Online games often require you to create accounts and log in to play the game. That's why Gameloop has a dedicated login system that allows you to log in using Facebook or Google accounts.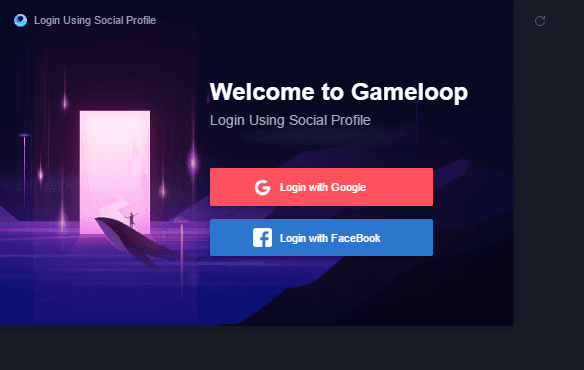 Live Streams
You can enjoy live streams on Nimotv and Nonolive just inside Gameloop. This is great for enjoying your favorite live streams without leaving the game application.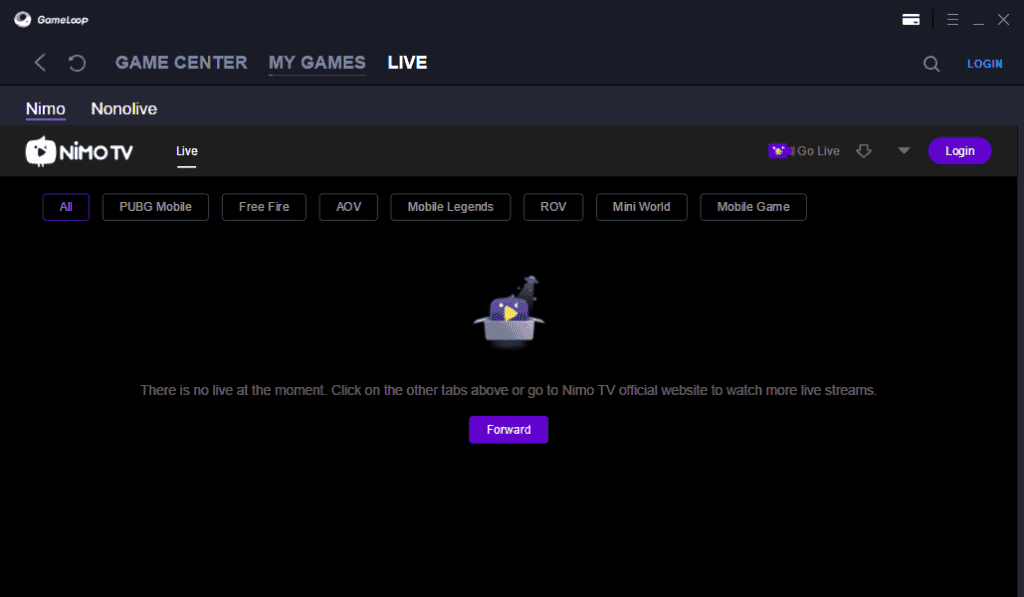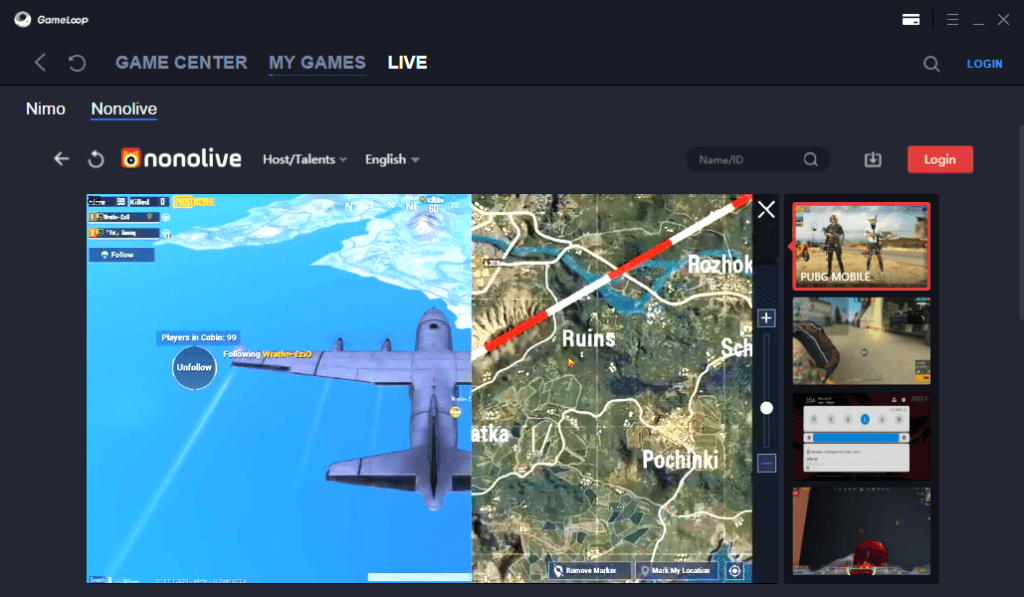 Network Acceleration
You can not tolerate network issues in online games. Frequent disconnects or losing networks will destroy the fun and result in a game over. But Gameloop's latest versions have fixed this issue using network acceleration technology. This will ensure stable connectivity even on slow networks. So no more network failure due to slow internet speed.
Join Friends
Join PUBG mobile official lobby to find team members and join chat rooms. Just locate the friend's icon on the left bottom of the emulator and discover amazing friends.
How to use Gameloop?
If you have experienced playing PUBG Mobile on PC using TGB (Tencent Gaming Buddy) emulator, you will discover that Gameloop is similar to TGB or Tencent Gaming Assistant. The user interface and game settings are almost the same as TGB.
The fact behind this similarity is the development company behind both emulators. Gameloop is the stable version of TGB (the beta version). Tencent is the PUBG Mobile game developer and created its own Android emulator for playing PUBG Mobile on Windows PC.
Though the PUBG PC edition was released and became famous quickly, it was heavy on system resources, and only a high-end PC could play this game.
For those who are not familiar with the Gameloop app player, here is a quick overview. Let's have a look.
How to install Gameloop
The installation is pretty simple and automated. You do need not to configure anything besides the initial installation steps. Let's discover how to install the emulator on Windows OS.
First, download the Gameloop installer from the current page (download link on the top and bottom).
After the download, run the installer, and setup will begin.
Choose the installation location and press the install button.
The setup will start downloading the Turbo AOW Engine as the base emulator. A progress bar with a download percentage (1.0% to 100%) will display at the bottom of the screen.

Wait for the installation process to finish.
Note: Most of the time, the installer will try to download and install the PUBG MOBILE game automatically, just after the Turbo AOW Engine installation. If you do not want to install PUBG MOBILE or CODM (Call of Duty MOBILE) along with Gameloop emulator, then keep an eye on the installation progress bar.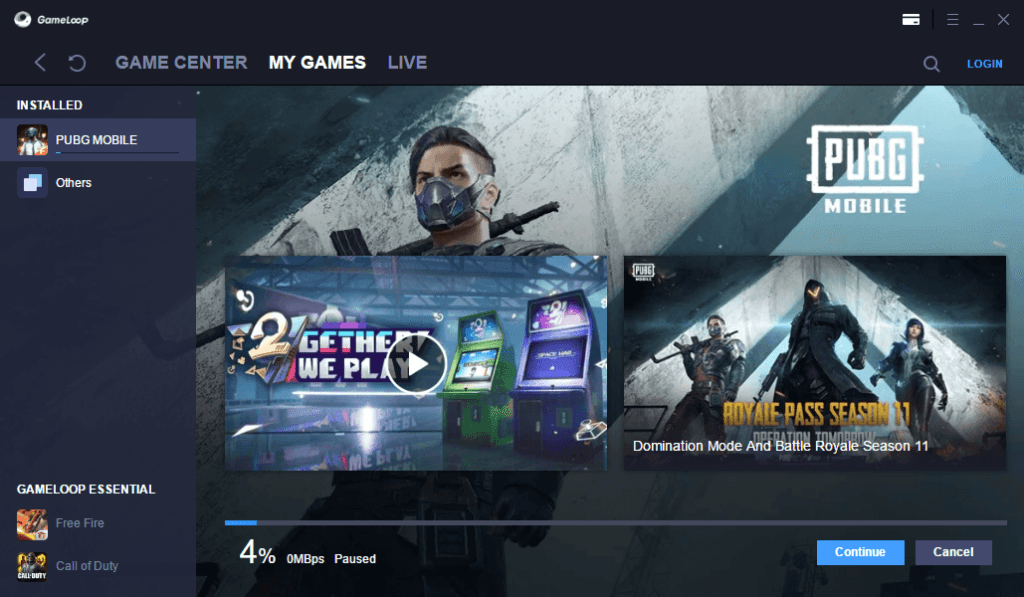 When the first installation of the Turbo AOW Engine reaches 100% completion, go to the current game or My Games option and cancel the auto game installation in the bottom-right corner.
How to uninstall Gameloop?
If you want to remove the Gameloop emulator for any reason, here is a quick guide for you:
Go to Settings > Apps
Locate the Gameloop, click on it and select uninstall.

Confirm the uninstallation and accept UAC (User Access Control) dialog by pressing Yes.
A dialog box will appear again with two options: uninstall and repair. Select Uninstall option.

Select one or more feedback options and click uninstall.

The uninstall process will start and finish in a few seconds and you will see a final message.



All done! Gameloop has successfully uninstalled from your computer.
Gameloop Troubleshooting
Here is a list of common issues and their possible solutions.
The following Pre-installation Check error message does not allow to start the installation:
Unable to install, because drive C: does not have more than 3 GB of space. Please clear some space first.

The message is pretty clear, the emulator cannot install because you do not have at least 3GB free disk space. Make sure you have the required free disk space available and then try again to install the program.
Some games installation requires Android Nougat at least. When you try to install that game, the following error message will appear:
The game cannot be started without Android 7
Please install Standard Engine for stable operations.

Press the install button and the Standard Engine will download and install Android 7 support for the Gameloop app player.

The game will install automatically.

An error message appears while installing the Standard Engine for Android 7:
Error: Write error in the file android_data_disk.vdi. Probably the disk is full. Retry or Cancel.

This message appears when the emulator tries to download the Standard Engine but the free space on the disk is not enough. Please free-up some disk space and then press the Retry button.
Gameloop Supported Games
Though this emulator can play almost all Android games on PC, here is a list of official supported games which are available in the Game Center.
FPS

PUBG MOBILE
Free Fire
Call of Duty
Standoff 2
Cyber Hunter
Modern Ops
Creative Destruction
Into The Dead 2
The Killbox
Crisis Action
Infinity Ops
The Walking Zombie 2
WeTV
Car Simulator M5
World War Heroes
Dead Trigger 2
Read Commando Secret Mission
Hopeless Land
Wonder Blade

MOBA

Mobile Legends
Arena of Valor
Heroes Evolved
Extraordinary Ones: 5V5 MOBA
Marvel Super War

Applications (Apps)

Google Installer
WhatsApp
Google Play Game
Instagram
FaceBook Lite
YouTube
Twitter
VK
WeSing
LINE
BIGO LIVE
LiveMe
Azar
Gamely
Tinder
Kwai
Likee
Pinterest
DAZN

RPG

Honkai Impact 3rd
Mobile Legends Adventures
Darkness Rises
Saint Seiya Awakening
Fury Survivor: Pixel Z
Iumia Saga
Dawn of Zombies
AFK Arena
MARVEL Future Fight
Mu Dai Then Su H5
Summoners And Puzzles
Yulgang Mobile
Idle Heroes
Lineage 2: Revolution
Utopia:Origin
Game of Thrones: Conquest
Tap Adventure
Mr Love
Empires & Puzzles

Casual

8 Ball Pool
Head Ball 2
Pou
Happy Glass
Hill Climb Racing 2
Stack Ball
Candy Crush Saga
My Talking Tom
Clean Road
Taling Tom Gold Run
Candy Crush Soda
Hay Day
Avakin Life – 3D Virtual World
Candy Crush Friends
Game Dev Story
Bubble Shooter
Find The Difference
Wordscapes
Farm Heroes Saga
Coin Master

Arcade

Anger of stick 5 :zombie
Subway Surfers
Paper.io 2
Payback 2
Zombie Tsunami
Stack Ball
Crowd City
BnB M
Helix Jump
Clean Road
Talking Tom Gold Run
BarbarQ
CATS: Crash Arena Turbo Stars
Cooking Fever
Cooking Madness – A Chef's Restaurant Games
Cooking Craze: Restaurant Game
Cookie Run: OvenBreak
1945 Air Force
HAWK
Galaga Wars

Strategy

Clash Royale
Clash of Clans
Chess Rush
Rise of Kingdoms
Magic Chess: Bang Bang
Lord Mobile
Army Men Strike
METAL SLUG ATTACK
Clash of Kings
Arena of Evolution: Red Tides
Second Galaxy
Guns of Glory
Game of Sultans
Auto Chess
Brutal Age
Art of War: Last Day
Pixel Starships :Hyperspace
Last Shelter
Call Me Emperor

MMORPG

Legacy of Discord
Ragnarok M: Eternal Love
Laplace M
Era of Colestials
Yulgang Mobile
Legend of Agress
Dragon Raja
World of Kings
DX
Tale of Wind

Auto Battler

Chess Rush
Magic Chess: Bang Bang
Arena of Evolution: Red Tides
Auto Chess

ACT

Call of Duty
Brawl Stars
Honkai Impact 3rd
Stick Fight: The Game Mobile
Mini Militia
Gangstar Vegas: World of Crime
DRAGON BALL Z DOKKAN BATTLE
War Robots
Aquapark.io
Robbery Bob
Soul Knight
Last Day on Earth: Survival
KOF ALLSTAR
Metal Madness
Survival Heroes
Battle Bay
Archero
MARVEL Contest of Champions
Shadow of Death
BarbarQ
You can browse all games and select any game of your choice or use the search box to find your favorite game by typing the name.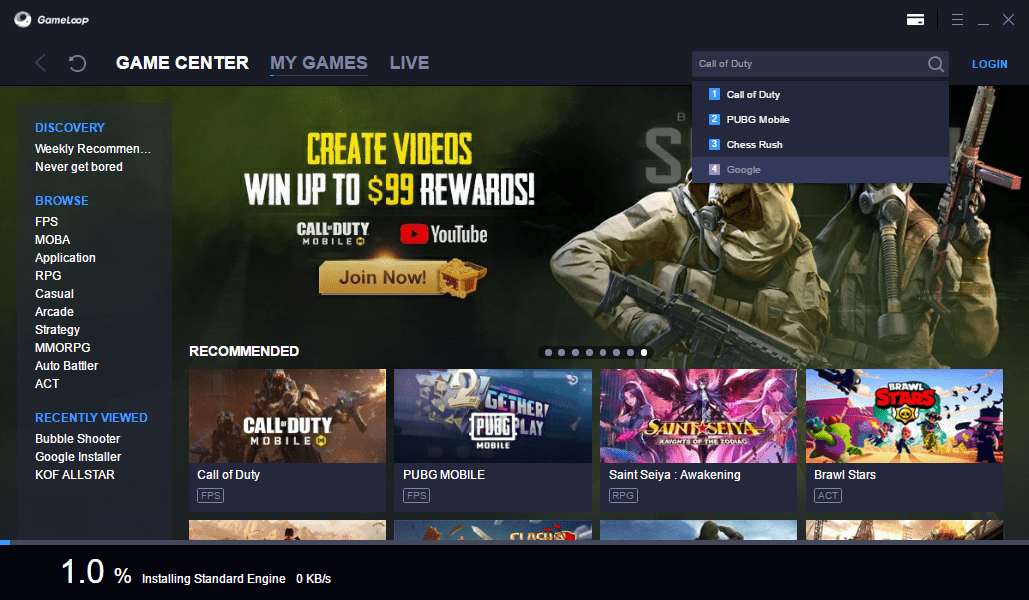 Do not worry if you cannot find your favorite game on the list, just search for the game and hopefully you will find that game in search results. Alternatively, download the game APK file, then drag and drop into the emulator.
Gameloop main menu
The main menu is located at the right-top corner just before minimize and close the button in the form of a hamburger icon. Clicking the menu will display the following items:
Update
Feedback
Setting
Diagnosis
About
Let's have a quick view of what each menu option is used for.
Update
Update the Gameloop to the latest version without leaving the emulator interface.
Feedback
Send feedback to the developers about adding new features, fixing bugs, or anything else.
Setting
Configure and optimize the game engine for the best game experience. The setting is explained in detail on the current page.
Diagnosis
This tool will diagnose and show the hardware and software reports of your computer as well as installed components.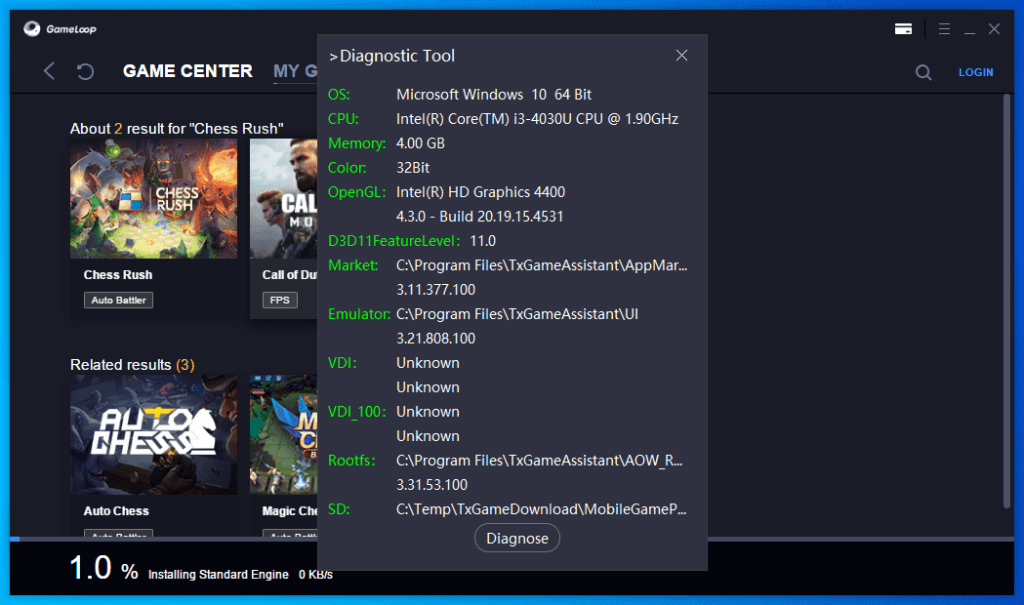 Diagnosis option opens the diagnostic tool with the following system information:
OS
CPU
Memory
Color
OpenGL
D3D11 Feature Level
Market
Emulator
VDI
VDI_100
Rootfs
SD
You can generate the diagnostic report by clicking the Diagnose button. The report will save to the following path/folder/directory:
My Documents\\Diagnostic Results of Gameloop.zip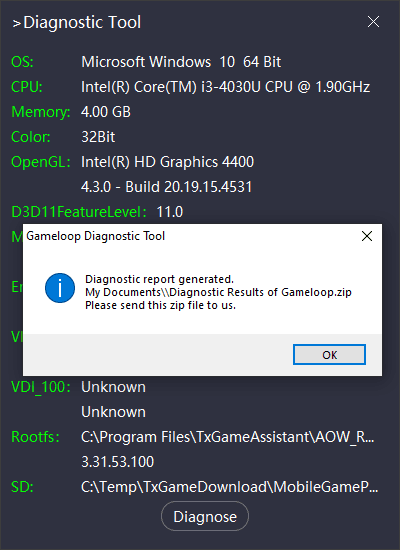 About
The about option opens a box showing the Gameloop official logo, and link for privacy protocol and user service protocol.
Gameloop Settings Center
Though the Gameloop emulator is already fine-tuned for Android games, and especially the supported games, the setting center still has some powerful options for you. You can modify the configuration and optimize the game engine for either the fastest performance or best quality, or a perfect balance of speed and quality.
You can access the settings center from the main menu > setting.
The setting center has two sections:
Basics
Engine
Let's take a tour of these tabs thoroughly.
Basics (Basic Settings)
You will find the following sections in the basics:
General
Here you have general program settings that allow you to control how the emulator should behave as a program.
Run at Startup: Run Gameloop automatically at system startup
Hide Advanced Watermark
Voice chat with friends: Enable/disable voice chat in-game
Google installer
These settings are very basic and general. However, be careful before changing any option.
Boss Key
Set a boss key with a combination of Ctrl key. Enable the checkbox and press any key on your keyboard, and that key will set as boss key with Ctrl key combination.
Screen Capture
Select the folder to save captured images and recorded videos in the game.
The default location for screenshots is:
C:\ProgramData\Tencent\TxGameAssistant\Snapshot
Language
Select the language for the emulator interface. Available languages are:
English
Português
Pусский
Türkçe
Indonesia
한국어
The newer versions may have more languages.
Download Mode
Smart Surfing Mode
Max Download Limit [0] KB/s
Limit the maximum download speed for downloading games in Gameloop.
Engine (Game Engine Settings)
Engine settings allow you tune-up emulator advanced configuration such as device selection, resource allocation, etc.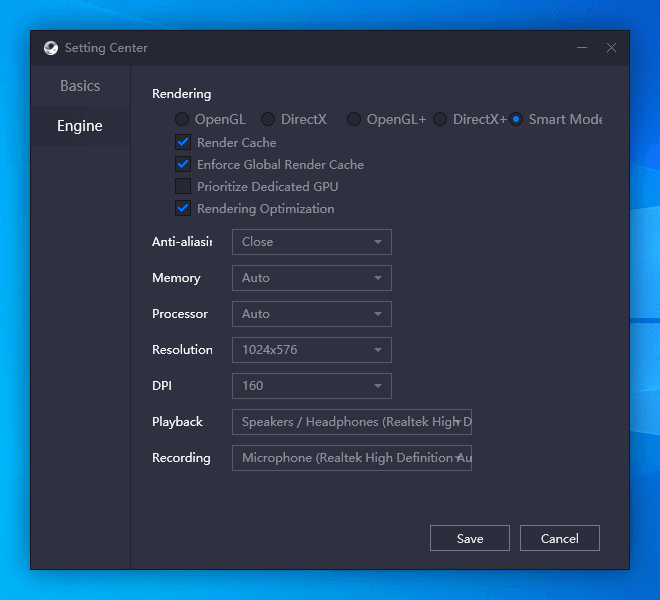 Rendering
Select the rendering engine. Choosing the right rendering technology can improve the gameplay experience.
OpenGL
DirectX
OpenGL+
DirectX+
Smart Mode
Besides rendering engine choice, there are a few other options:
Render Cache
Enforce Global Render Cache
Prioritize Dedicated GPU
Rendering Optimization
Anti-aliasing
Memory
Dedicate a portion of system RAM for the emulator. You will see the memory range depending on memory size installed on your computer.
Auto
512 MB
1024 MB
1536 MB
2048 MB
4096 MB
8192 MB
Use the option sensibly, choosing the higher value will speed-up Gameloop emulator performance but the other system applications and background processes may slow down. We recommend you stay safe with the Auto option.
Processor
Dedicate the CPU cores for the emulator. You will see the options depending on the number of cores in the CPU. Choosing a higher value may not have any effect if you have an older computer machine.
Choosing a higher value may speed-up emulator gaming performance but slow down other system tasks. While a lower value will slow down the program but other system programs may have more processor resources. Therefore, choose wisely or stick with the Auto option.
Resolution
Select the optimum screen resolution according to your choice. The graphics card or GPU plays a very important role in the supported resolution, as well as monitor size.
1024×576
1280×720
1366×768
Custom resolution
Be careful when setting a custom resolution. The inappropriate value may result in abnormal display.
DPI
Choose how many DPI (dots per inch) the emulator will show. It also depends on GPU and monitor quality.
You have to balance between quality and performance. The higher DPI value will consume more resources but result in vivid and sharp video graphics. While the lower DPI will boost video rendering but ambiguous video quality.
Playback
Select the Speaker/Headphones for output audio in case you have more than one sound card installed on your system.
Recording
Select a Microphone device in case you have more than one recording device.
Why Choose Gameloop
Gameloop (Tencent Gaming Buddy) is most sophisticated emulator for playing Android APK games on Windows PC.
Gameloop System Requirements
The system requirements are almost the same as other Android emulators, such as Core 2 Duo, 4GB RAM, 10GB hard disk space, etc.
Minimum Requirements
| | |
| --- | --- |
| CPU/Processor | Intel Dual core or AMD 1.8 GHz |
| RAM/Memory | 3GB RAM |
| GPU/Graphics Card | Intel HD Graphics or NVIDIA GeForce 8600/9600GT or AMD ATI Radeon HD2600/3600 |
| Storage | 2GB free disk space |
Recommended Requirements
| | |
| --- | --- |
| CPU/Processor | Intel Core i3 or higher |
| RAM/Memory | 8GB RAM |
| GPU/Graphics Card | Intel HD Graphics or NVIDIA GTX 660 or AMD Radeon RX 460 |
| Storage | 10GB free disk space |
FAQs
Gameloop stucks at 98%
How to optimize Gameloop with the best settings?
How Gameloop emulator is better than the BlueStacks app player?
How to download Game Loop?
How to play Call of Duty Mobile on PC using Gameloop?
Gameloop Support (Issues and fixes)
Users face issues while using emulators or playing games. Let's look at killing problems and learn how to fix those issues.
FPS drop or Lag issue in PUBG and Free Fire
Almost every gamer wants to know how to fix lags and speed up the Gameloop emulator. PUBG is a heavy graphics game; users usually face lags and slow performance. Here are a few tips that will help you fix or reduce lag issues:
Close all other programs: Close all other programs when you launch Gameloop. Some programs are very resource hungry such as web browsers (Chrome, Firefox, Opera), graphics apps (Adobe Photoshop, Adobe Illustrator), video editing software (Adobe Premiere Pro), etc.
Prioritize dedicated GPU: If you have a dedicated GPU, then make sure to enable Prioritize dedicated GPU option in Engine settings.
Optimize Engine Settings: Go to Engine settings and make sure the following:
Anti-aliasing is Closed
The amount of Memory allocated is lower than the total system memory
The number of processors allocated is less than the total number of processors in the computer.
Try setting a lower resolution.
Set a lower value of DPI.
Save and test if a lag issue has been resolved. If yes, you may try changing the resolution and DPI to higher values and see if it works without lag.
Optimize Game Settings: Go to the Game settings tab and change display quality to SD.
Loading stop, suspend, or stuck on 98%
Like most players, if you are facing a 98% emulator hang issue, try the following quick tips:
Pause or permanently disable Windows Security (Windows Defender Antivirus)
Remove or pause third-party antivirus or security suite if you have it installed (Avast, Bitdefender, etc.)
Remove and reinstall Gameloop to a different location folder.
Fix Mic, audio, or voice failure issue.
Follow these steps to fix the voice or microphone issue:
Make sure speakers are correctly connected and working for other apps.
Update sound drivers to the latest version
Adjust app volume and master volume in Windows settings
[Ctrl] Control key not working
Here are steps to fix the missing key or key not working problem:
Go to Gameloop settings and select Controls.
Select Customize and then Reset and Save.
Now go to keymap settings and make sure KeyMapping Mode and the Gaming Resolution are set to same resolution.
Download Gameloop (All Editions)
Choose the installer you require from the list given below: