Last Updated on September 23, 2023 by Rizwan
Chrome Extension
🗸 Official
🗸 Always up-to-date.
X Requires internet for each USB creation.
Download disc image (.bin)
🗸 Manual
🗸 Download once, and use offline.
X The .bin may not have latest updates.
Get the latest version of ChromeOS Flex for your PC or Mac. Read more for direct download links and full installation guide.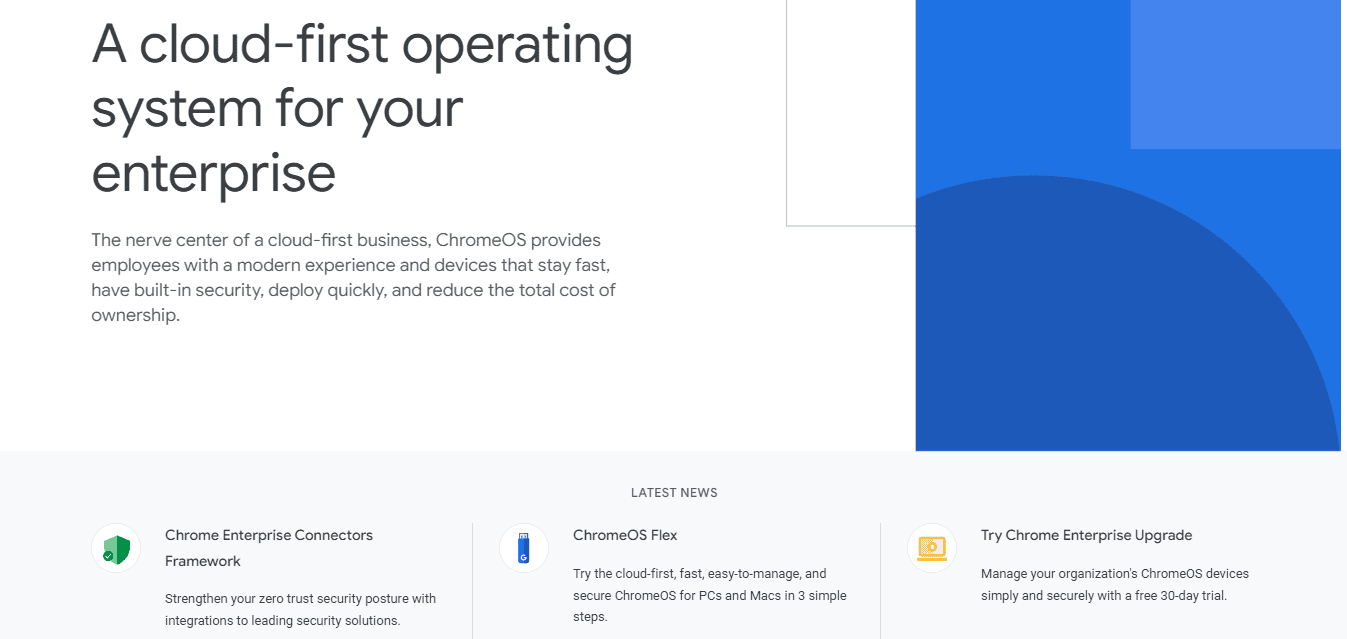 Introducation to ChromeOS Flex
Operating system built by Google that is based on Gentoo Linux, the Linux kernel, and the Google Chrome web browser as its primary user interface (Chrome OS in Spain and Chrome Flex Operating System in Latin America).
It is a cloud based operating system that makes use of remote servers or the Internet. That's why Chrome OS Flex is optimized for using the web.
One key distinction between Chrome OS Flex and other operating systems is that it could be installed on any computer that satisfies the minimal criteria, regardless of whether or not it is officially supported.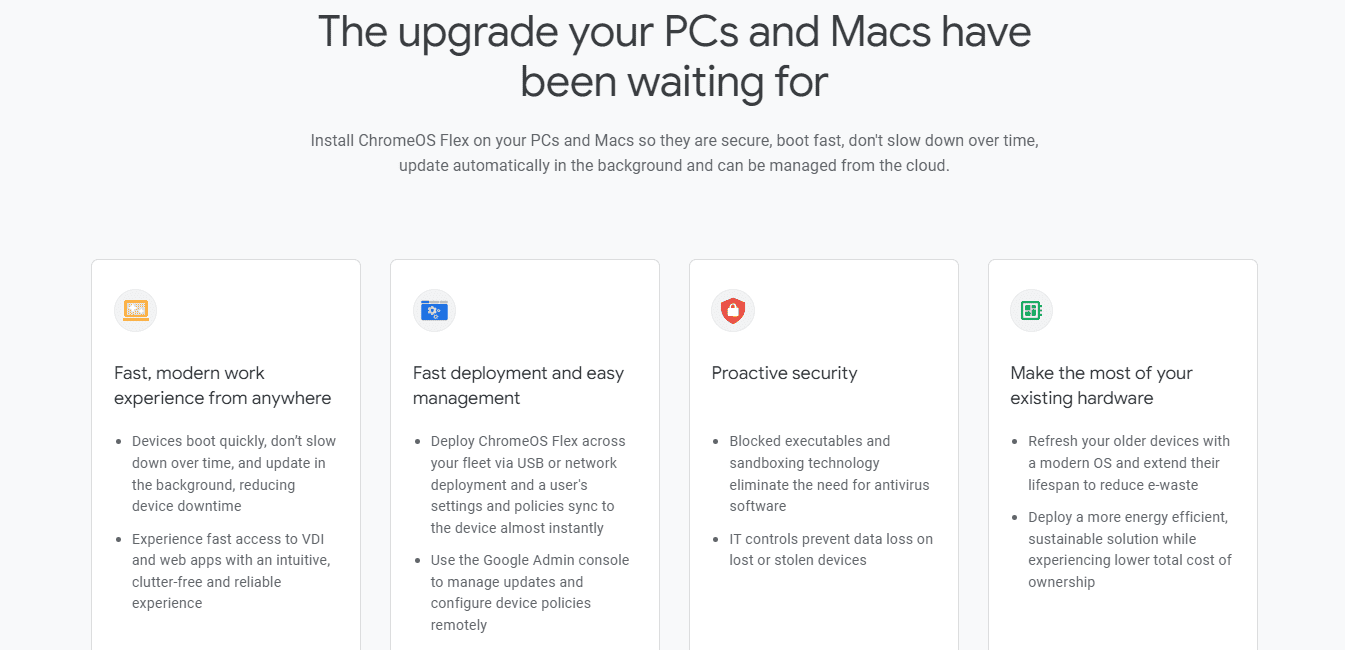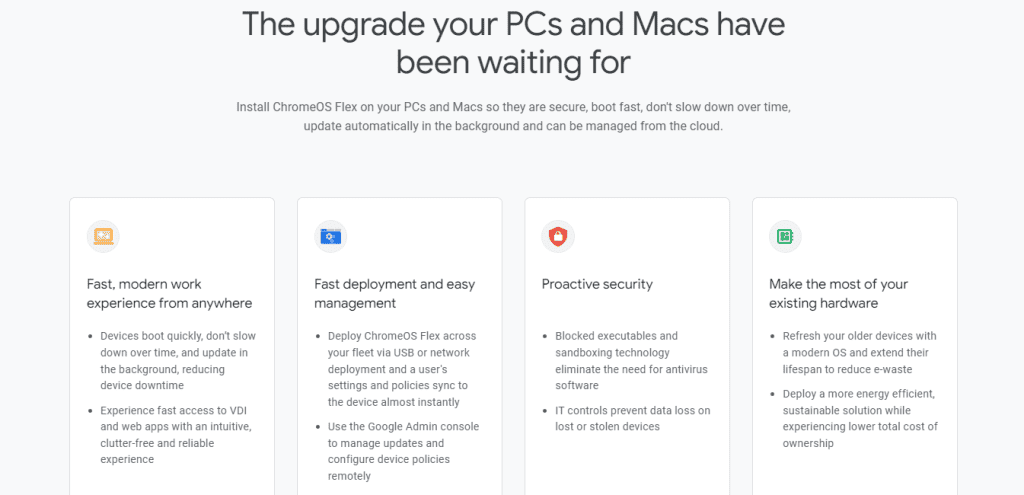 Evolution of ChromeOS Flex by Google
Chrome OS Flex is the result of Google's acquisition of Neverware, the successor to CloudReady, an operating system based on Chromium OS that is owned by Neverware and was born as an alternative to Chrome OS, enabling its installation in certified equipment over 10 years old (2010 and onwards). It helped keeping the old machines in a usable condition and with an updated system.
Early access to Chrome OS Flex was announced by Google on February 14, 2022, making it possible to install an official version of Chrome OS on PCs beginning in 2010, but with a few changes from the version of Chromebooks and in varying stages of development. However, on July 14, 2022, it is officially revealed as a completely stable system that can be installed on home, school, and workplace devices.
ChromeOS Flex vs ChromeOS – the Difference
The infrastructure and administration features of ChromeOS and ChromeOS Flex are identical. Installing ChromeOS Flex on a device running Windows, Mac OS X, or Linux grants access to the vast majority of ChromeOS's capabilities. Chrome OS Flex, on the other hand, is distinct from ChromeOS, which is exclusively found on Chromebooks, Chromeboxes, and Chromebases in the following ways.
Google Play Store or Android apps (APKs) will not install
To be clear, ChromeOS Flex does not work with Android apps or Google Play. There is no Android container installed, hence it cannot run any Android apps.
Flex is Not an Android OS
Like ChromeOS, ChromeOS Flex is not aligned with Google's mobile-focused Android operating system. The new Chrome OS Flex is designed for companies and Internet-dependent customers who choose to work with an older computer.
No support for Parallels Desktop
ChromeOS Flex does not support Parallels Desktop, therefore you can't use it to access Windows VMs (virtual machines).
System requriements variation
Chrome OS Flex models offer varying degrees of support for the Linux development environment. There are minimum hardware specifications for the Chrome Device that must be met in order to make use of this feature.
Similar features of ChromeOS, but not all
While installing ChromeOS Flex will provide you access to many of the performance, power, and reliability benefits of ChromeOS, you cannot ensure that your device will achieve the same level of performance as a Chromebook.
ChromeOS Flex's boot time, battery life, and power savings are just a few features that may differ by device.
Your device nomitates as a Chrome device
When ChromeOS Flex is installed on a computer, the device (PC, laptop, or Mac) immediately gets the status of Chrome Device.
ChromeOS Flex Review
Google's Chrome OS Flex is a customized Linux OS designed to help individuals and organizations in every corner of the globe upgrade their clunky, slow, unstable, and unreliable PCs to a newer model running Chrome OS, which outsources much of its processing power to the company's web apps and cloud storage.
This lightweight OS was designed from the bottom up to be as simple and safe as possible, allowing anyone to turn their home computer (even one with outdated desktop or laptop hardware) into a powerful tool for work, play, and the modern always-on web.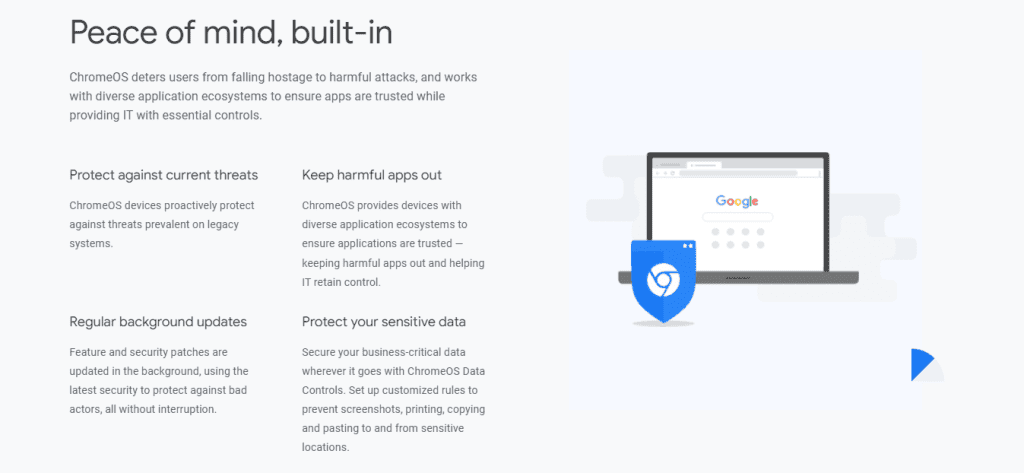 Chrome OS Flex appeals not just to individuals, but also to corporations and organizations in search of a simple means of migrating their PC fleet to the cloud.
Any recent Windows or macOS computer can use it. This is especially true for older computers that cannot run the most recent versions of Windows or Mac OS. This operating system will restore their previous level of speed, security, and indestructibility.
Chrome OS Flex, thanks to its cloud-based management and automated updates, is a great way to breathe new life into an extremely wide range of older PC hardware.
Chrome OS Flex requires its installer to be prepared on a bootable USB stick before it can be used. The installation procedure will start immediately when the installer is loaded into memory during boot up on the target desktop or laptop computer.
Since this operating system relies heavily on software and services hosted in the cloud, setting it up will necessitate a connection to the internet, either wired or wireless.
After a full installation, users have access to a vast array of resources, including the latest in entertainment, cloud-based software, a dizzying array of Chrome add-ons, and even native Linux software.
Quick, cutting-edge, and accessible from anywhere.
Quick setup and simple administration.
Top level security features.
Use the device you already have.
How ChromeOS Flex works?
First, you'll need to make a bootable Chrome OS Flex USB drive so you can test out Chrome OS before you commit to installing it.
Second, Substitute Chrome OS Flex for Windows as your OS when you're ready.
Third, spread Chrome OS Flex across the workplace by distributing it on a USB drive or across the network.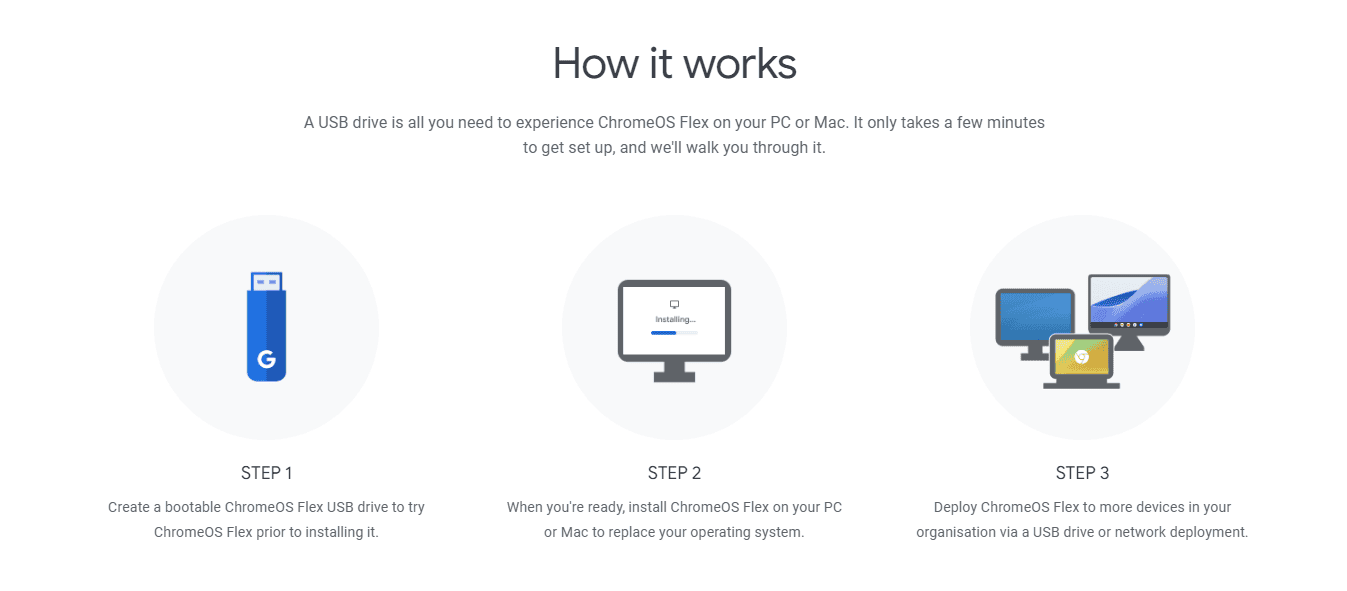 If you're using Windows, you can switch to Chrome OS Flex by installing the Chrome browser extension "Chromebook Recovery Utility," which will turn a USB stick into a bootable device on which to install this cloud-first lightweight OS.
Chrome OS Flex includes a plethora of features necessary for modern computing, such as powerful sign-in tools, printer and network configurations, built-in security tools, proactive protection with cloud-delivery of fresh antivirus definitions, background updates, and more.
Advanced security, remote control, access to cloud-based hardware, and much more are all of importance to business users.
System Requirements of ChromeOS Flex
Here are generic minimum system requirements for ChromeOS Flex. However, we recommend checking if your computer model is certified with ChromeOS Flex on this page.
Minumum System Requriements
| | |
| --- | --- |
| CPU | Intel or AMD processor (x86/x64). ARM not supported. |
| RAM | 4 GB or more |
| Storage | 16 GB or more |
| USB | A USB pendrive having at least 8GB storage space. |
If your computer is on the list, you are ready to go. Do not be concerned if your model does not appear on the list. You can continue with the installation. Chrome OS Flex works on non-certified PCs; however, some functionalities may be limited. Google will gradually add more computers to its certified list.
How to download ChromeOS Flex?
Chromebook Recovery Utility
Install Chromebook Recovery Utility extension from Chrome Store.
Download ChromeOS Flex (Direct download links)
Here you can download ChromeOS Flex (direct download links) disc images (.BIN / .ISO) to create a bootable USB flash drive or burn a DVD.
The above direct download link will download a .zip file to your computer. Unzip the file and you will have a .bin image file which can be used to create a bootable USB flash drive for ChromeOS Flex.
You will need a bootable USB creation tool, we recommend Rufus USB tool because it is free, and simple tool. Download Rufus here.